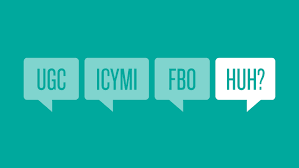 23 Oct

The Most Important Social Media Acronyms and Slang You Should Know

Ever since the term "social media" came into our modern world a few years ago—nothing has been the same. However, in addition to bringing about new ways of communicating and new forms of engagement and advertising—social media has also developed a new type of language.

As social media becomes more and more entwined in our everyday lives, it is important to be aware of the different social media acronyms and slang that go with it. Take a look at the most important social media terms you should be aware of, and what they actually mean. This way, you can understand the audience you are talking to with all of your social media campaigns, and actually learn to speak their language.

Common Terms

Before diving in to some of the lesser-known acronyms, here are a few basics to make sure you remember.

FB- Facebook

IG- Instagram

LI- LinkedIn

YT- YouTube

TW- Twitter

DM- Direct Message, or a message sent privately between two users.

MT- Modified Tweet, or altering a tweet to shorten it for posting.

RT- Retweeting, or getting someone to reshare your post as a way to get your account more attention.

Business-Related Acronyms

If you are using social media to help grow your business and your brand, here are a few acronyms to be aware of.

B2B- Business to Business, or companies that work directly with other companies.

B2C- Business to Consumer, or companies that sell directly to consumers.

CMS- Content Management System, or tool used for editing, scheduling and publishing material across the web.

CPC- Cost per click, or how much you pay every time someone clicks on your ad.

CR- Conversion rate, or how many people took the desired action from your social media ad, divided by the number of people who could have.

CTA- Call to action, or a term that encourages viewers to do something.

CTR- Click through rate, or what percentage of people clicked on a link when given the option.

Technical Terms

As you start to grow your social media marketing efforts, you may come across some more technical terms. This includes the following:

GA- Google Analytics

PV- Page Views, or how many visitors land on a specific page

RSS- Really Simply Syndication or Rich Site Summary—this is a feed of all of the published content from a single source.

SEM- Search Engine Marketing or using paid ads that show up on search engines

SEO- Search Engine Optimization

UV- Unique Views, or how many times a page, video or image has been viewed.

If you are interested in learning more about what social media can do for your business, contact the experts here at Life In Motion to set up a consultation today.