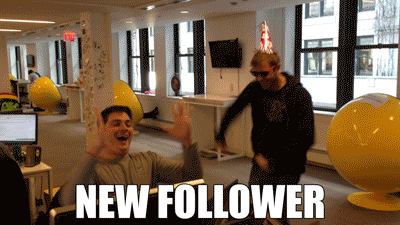 14 May

8 Ways to Gain Social Media Followers

Social media has become one of the largest platforms for marketing to possible consumers. Why wouldn't it be? Everyone seems to be on social media these days. Anyone who is marketing on social media has a goal of gaining followers. Not only does a higher follower count mean more influence in your industry, but also signals that your audience, leads, and customers are interested in your content.

But how do you get these followers in the first place? Here are 5 tips that will help you not just gain followers but followers that can convert into potential clients.
Define your Target Audience
Before you start posting random posts on your Facebook account or uploading a bunch of images on your Instagram profile, you should first define your target audience. This step is not only important when it comes to social media, but it should also be a vital part of your general marketing campaign. Knowing more about your target audience will make it easier for you to reach them ­– you need to know what they are talking about, solutions they are looking for and tone they are more likely to respond to. We recommend utilizing the audience targeting features that Facebook and Twitter ad platforms, as well as using LinkedIn advanced search functions to locate your target audience and determine the essential details you need.
Share Frequently
Don't let weeks pass by without posting on your social media, maintain a consistency throughout your posts. If your profile looks deserted, then people will not be keen on pressing the "like" button.  Weather its industry updates, fun facts, or deals you are offering make sure to post at least twice a week but posting once a day seems to be the most effective.
Share with a Purpose
Make sure what you are sharing has a purpose and is related to what you're are trying to market. Also, make sure that what you are posting is engaging with your target audience. Videos are a great way to have creative posts that people are more likely to be engaged with!
Create and Schedule Content in Advance
Unfortunately, you may not always have enough time to post content every day or the best time to post content might be inconvenient for you. Thus, creating content in advance and scheduling them is often the best way to keep your social walls active without having to manually post them all the time.
Be Responsive
Reply to people who are engaged with your posts. Reciprocation is key when looking to build and improve your social media presence. Respond to others in your network and keep up the dialogue. Many organizations think once something is posted, that's the end of the line. Existing and potential members often seek more information on posts. Make sure you're monitoring sentiment to gauge audience reaction to your posts and most importantly, show your audience that you care about their concerns.
There is no question about it. Online marketing is more important than ever for your organization/brand, and social media is certainly no exception. Finding your audience and effectively interacting with them opens a wide range of opportunities for your organization. Start small and try implementing a few of these tips into your strategy – your organization will be sure to see positive results.